Telfed's Rishon LeZion Regional Committee invites you to A Bowling and Pizza Evening! Join us on Monday 13 December at 19:00 at Planet Bowling.
Read More »
Join us on Sunday 28 November at 17:30 as we light the first Chanukah candle together with our community in the Telfed Moadon, 19 Schwartz
Read More »
Thank you to Marc Reiss (Head of Foreign Resident & Olim Activities, Bank Mizrahi Tefahot) for presenting a concise webinar on 'Banking in Israel' to our
Read More »
On Monday 13 September 2021, board members of "Partnership Together" met with Esti Moskowitz, the
Read More »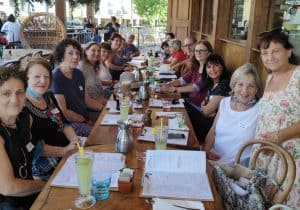 The Ra'anana Ladies Coffee Club met for the second time at the Ivriani Restaurant in Raanana.
Read More »
We invite the community to join in our upcoming virtual event. To register, please click
Read More »