On Yom Hazikaron, Telfed representatives will participate in the World Machal Yom Hazikaron Memorial Service. Our Olim community are invited to join us as we
Read More »
Don't miss our upcoming Pesach Picnic at Kibbutz Tzora on 17 April 2022! Bring your Pesach picnic, braai and blanket, and join in the fun.
Read More »
Don't miss out on our upcoming BEACH CLEAN UP on 29 March at 17:00 on Good Deeds Day (Yom Hama'asim Tovim). We'll be meeting at
Read More »
In partnership with Nefesh B'Nefesh, we invite you to join us at the Enav Cultural
Read More »
On Monday 13 September 2021, board members of "Partnership Together" met with Esti Moskowitz, the
Read More »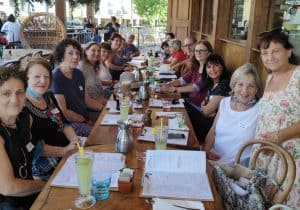 The Ra'anana Ladies Coffee Club met for the second time at the Ivriani Restaurant in Raanana.
Read More »